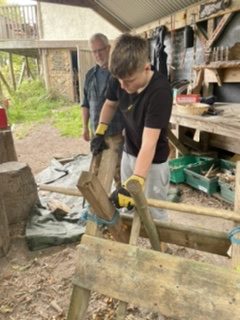 The pupils we work with struggle in the classroom but often excel outside, gaining confidence in their abilities and earning qualifications. They are the environmentalists, countryside rangers, wildlife conservationists and outdoor teachers of the future.
Moulsecoomb Forest Garden provides the opportunity for those pupils to learn those critical skills, and while demand for our outdoor education is growing, we haven't got the resources to meet that demand.
But if we are to continue to thrive and have any sort of legacy, then the children we support need to be the employees of the future. They are the experts – they know their area, the people, the language and the barriers – and are the best advocates for their communities.
However, routes into the world of wildlife conservation and land management careers are limited, and many do not have the family help, connections or financial support that others benefit from.
So how can you help?
We could spend our time jumping through endless, frustrating funding hoops. Or, we could find organisations and business that can see that one of the country's most white, middle-class professions is long overdue a fork up its bum and a fresh perspective.
With biodiversity at risk, these pupils have genuine potential to thrive and enrich the UK conservation sector and we need to make sure they get a fair opportunity to access these jobs.
We've drawn up a plan and a budget and we'd love to chat more with potential supporters who are interested in helping us inject new life and perspectives into the UK conservation sector.
Come and see what we do with a tour and some lunch any Friday.
Let's work together to really make a difference.