Another year at the garden where we went from a very wet winter to a boiling hot summer.
While we can never predict the weather, one
thing that is constant is the number of visitors that come and see what we get up to
o. This year
one
very
welcome development was that more and more potential funders have been coming up – Sussex Community Foundation, Fonthill Foundation, Ernest Kleinwort, Big Lottery, Homity Trust and Peoples Postcode Lotteryalong with companies who are our near neighbours such as UK Power Networks and Paxtons.
Local councillor Tracey Hill also generously awarded part of her ward budget to support
our
work.
Our workdays continue to bristle with activity fuelled by lunch cooked by Carly and Jo.
We encouraged long term volunteer Andrew to start working in The Bevy Pub and he is now the omelette as well as table tennis king – just not at the same time. We continue to wor
k
with St. John's and the council to make sure we support any
adults with learning disabilities
who want to move on to more training and paid work.
Once again the weather was kind at our Open Day where volunteers and pupils showed people what we get up to
o
.
We put up a new polytunnel thanks to First Tunnels (where an ash tree branch duly
fell through
it) which helpe
d,
along with the sun and the hotbox at Moulsecoomb Primary to produce our best tomato crop ever – with hardly a blighted leaf in sight. Above the new poly we have been busy working on a new sensory garden that will be somewhere quiet to pot up plants and have your lunch in peace. This is also where we are building Matthe
w's
Corner, a permanent reminder of one of our most loved volunteers who sadly passed away at the beginning of the year.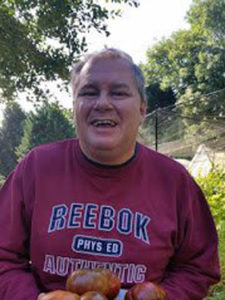 We welcomed Moulsecoomb Chomp and Concordia while hosting MIND eco-therapy workshops, Woodchips, The Wild Network and some mental health first aid training. Sensing Friends,an organisation for blind and partially sighted youngsters now hold regular activities at the garden. We continue to offer placements to Universities for students as part of their community partnership module and Paige gained work experience with us through her course at the Brighton MET. We have been working with Paige since she was 5 and she now works at Spiral Sussex. Thanks to Peoples Postcode Lottery funding Brighton Energy Co-op put solar panels on our cabin.

Pat and Carly continue to work at Brighton Aldridge Community Academy
(BACA)
every week
delivering gardening, woodcraft and cooking sessions as well as their pupils coming to the project, all part of the schools alternative provision strategy. We are building up our educational work again thanks to funding from The
Fonthill Foundation enabling us to act quickl
y,
rather than a lack of finance being a barrier to pupils accessing our services. Already we have been able to offer a
BACA
pupil
one to one
sessions at the
Forest Garden
, enabling him to pass his OCN Level one in Woodland Skills. We showed the new Head of BACA around the project and he has introduced better systems for
pupils to be able to access
the type of
early intervention we can offer.

Thanks to The Pebble Trust we ran another summer scheme for Moulsecoomb children to have fun learning about bushcraft, playing games in the woods and of course, make pizzas in our clay oven. However, we do need to change the format for older ones as it'sgetting harder to compete against computer games! 
Daisy is now working with Warren a day a week at Moulsecoomb Primary to help maintain their award–winning school grounds, helping with the lunch time environment club and working 1:1 with 3 girls who are really benefiting from the extra support. Pupils from the school regularly visit us – planting garlic, camp building, storytelling, hunting for treasure in the woods. A few also helped with a plant sale at the Bevy selling plants grown at the school and at the garden, raising funds for the Friday Friends seniors lunch club. Our runner beans and rhubarb helped feed the seniors club. This year we adopted Moulsecoomb train station as part of the Sussex Community Rail Partnership programme with the school and have started planting up a bee and butterfly bank. 
At our recent strategy meeting Rachel Bicker a biodiversity officer at Gatwick presented her draft wildlife plan. Rachel is responsible for the reptile mats at the garden helping us to increase the number of slow worms, and to make it easier to find and identify them. We are really pleased that Rachel is now one of our trustees. Beth from Team Pollinate at Sussex University has also been busy recording pollinating insects. Infact you could see them both having a Bug Off at our open day. 
We like our volunteers to be fully involved and in the past year we have held two user group meetings where we listen to how we can improve what we do as well as an AGM at The Bevy  which featured light show accounts, curry, karaoke and dinosaurs!
And finally its always nice to be acknowledged for your work and we came first in Brighton and Hove City in Bloom Best Community Charity Garden. So what better way to celebrate the end of the year with over 50 people enjoying what former Mayor Pete West described as 'the best alfresco Christmas dinner in Brighton.' 
* Support what we do? Then why not become a Friend of the Forest Garden with a monthly standing order. We'll make sure you get extra toppings on your pizza and an invite to our Christmas Party