The sun shone, the bees buzzed, the pizzas flew out of the oven and the cakes into people
'
s grateful mouths
!
What a fantastic open day with nearly 200 people visiting; old friends and new from all walks of li
fe including
Kayla Ente from Bhesco, Rich Haworth from The Living Coast and blogger Ian Chisnall from Ashdown Audio Visual
Pupils from Patcham House, Varndean and Brighton Aldridge Community Academy showed off the skills they've learnt. One lad who
'
s been excluded from mainstream school worked his socks off helping Carly with the pizza oven. His brilliant attitude
reinforcing
our view that not everyone learns best in a classroom environment.
 pizza production line
learning to make sparks
With disability services being decimated we welcomed St. Johns College and Spiral as well as parents and carers of some of our volunteers; volunteers who looked after the gate, showed people round and helped in our pop-up cafe.
 your names not down, your not coming in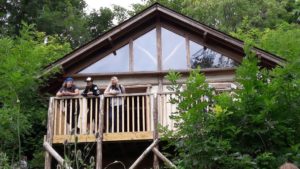 Ecologist Rachel Bicker
hunted for bees and pond-dipped with children – and even let past Mayor Pete West have a go with her butterfly nets. Sonny showed people our beehives
,
while
Moulsecoomb Prima

r

y's
smoothie bike swirled into action making healthy fruit drinks for everyone.
At the end of the day, we had a celebratory drink round the fire to thank everyone for all their hard work.
Thanks to Brighton and Hove Food Partnership for funding the open day.
* Support what we do? Then why not become a Friend of the Forest Garden with a monthly standing order. We'll make sure you get extra toppings on your pizza.